Our experts as speakers
Concentrated electromobility knowledge from the wall box pioneer
With 10 years of industry experience and 150,000 wall boxes sold, KEBA is a world market leader in electromobility. And our experts are frequently invited to speak at events all over the world. Come see Gerhard Wimmer, KEBA Sales Director, who will give unique insights into the dynamic electromobility market at "vie-mobility 2019" and the "Photovoltaik für Gebäude" (Photovoltaics for Buildings) conference.
---
Wall box pioneer from the beginning

With ten years of electromobility experience, the Austrian automation expert KEBA was one of the very first wall box pioneers. With over 150,00 wall boxes sold, the company is now among the top 3 world market leaders in the sector. And in the Austrian market, KEBA is the clear market leader.
KEBA experts as speakers

So it's not surprising that our electromobility experts are often invited, usually as speakers, to the stages of symposia and conferences all over the world. We are always happy to accept such invitations. That is why our Sales Director, Gerhard Wimmer, will appear at two events in the following weeks and share his extensive expertise with the public.
"Photovoltaik für Gebäude" conference hosted by the Upper Austrian Energy Saving Association

Photovoltaics have conquered the roofs of homes over the past few years. In the state of Upper Austria, 50% of the new family homes are equipped with photovoltaic systems. Gerhard Wimmer will show you how easy, safe and smart it is to charge your (future) electric car with solar power using a KEBA wall box. The audience may be curious to find out why this offers twice the advantage.
When? May 28, 2019
Where? Redoutensaal, Linz, Austria
"vie-mobility 2019" symposium

This year's "vie-mobility" symposium will be held under the motto "Change? New avenues with top infrastructure and electromobility for highly livable regions 2025". Gerhard Wimmer will be a speaker on panel 4 and explain why we are convinced that the future of mobility is electric and the future of electric mobility lies in smart wall boxes.
When? June 18, 2019
Where? Novomatic Forum, Vienna, Austria
Gerhard Wimmer, KEBA Sales Director, will provide unique insights into the dynamic electromobility market at "vie-mobility 2019" and the "Photovoltaik für Gebäude" (Photovoltaics for Buildings) conference. Be there and hear him in person. For more information on the events: LINK
Related articles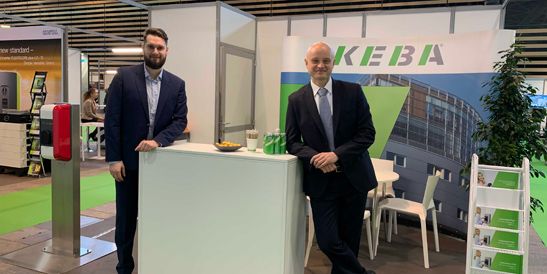 14.2.2019
KEBA at BePOSITIVE 2019
France calling ... again! This time our team is at BePOSITIVE - the national exhibition for the energy transition. And our wall box in the French national colors is on display again. Why not visit us until tomorrow, February 15th, at the KEBA stand 6.1P47?
28.5.2020
"Urcharge" project examines crucial questions about the viability of e-mobility for everyday use
One of the largest and longest electric mobility field tests in Austrian history starts tomorrow. For the project "Urcharge" (Urban Charging) 51 households in a Linz residential complex will be exchanging their fuel car for an electric car including their own KEBA charging station, which is integrated into the Linz AG charging solution "WallBOX CitySolution". It will provide answers to fundamental questions about what infrastructure and charging behaviour is needed in order to make the day-to-day use of e-mobility a decisive environmental protection factor in urban areas, even for densely populated areas. The start of the project had been postponed due to Corona - now the project gets underway.
Read more
10.12.2018
KEBA charging station receives test rating "very good" (mark: 1.3)
Only recently, both the German ADAC and the Austrian ÖAMTC tested twelve charging stations for electric cars: half of the wallboxes put through their paces were not recommended. The KEBA KeContact P30 charging station received an overall rating of 1.3 (judgement: very good) and is therefore recommended without restriction by the two mobility clubs!
Read more