Charging with solar power in Sweden
Thanks to our sales partner Sundrive, customers of ICA Maxi supermarkets in Sweden can now charge their electric vehicles with solar power. A 12 kW photovoltaic tracker with four KEBA wallboxes is provided for the innovation solution.
---
Related articles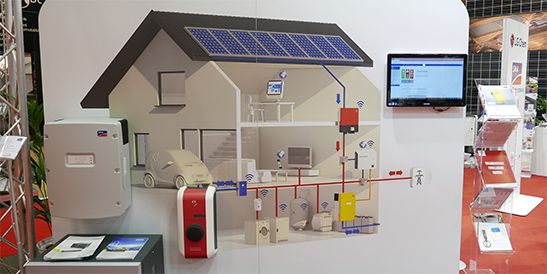 4.3.2019
That was the Energiesparmesse 2019
The Austrian Energy Saving Fair is the annual event highlight on the topic of "the perfect and smart home". This year the electric mobility expert and market leader KEBA was once again well represented with numerous wall boxes, an expert lecture and participation in a panel discussion on the ORF stage.
Read more
17.9.2019
That was the IAA 2019: Our photo gallery
The IAA 2019 was dedicated to solutions for tomorrow's mobility and in particular to the topic of electro mobility. KEBA presented its charging solutions for an electric and emission-free future. Visitors could experience the intelligent wall boxes – of which more than 150,000 have already been sold worldwide – first hand and exchange ideas with our electro mobility experts. We would like to express our sincere thanks for the enormous interest and the positive response! Here you can view the photo gallery with all of our trade fair impressions!
To the photo gallery
20.3.2019
Electric mobility premiere at the eltefa 2019
For the first time ever, the eltefa 2019 will be hosting a special exhibit "The E-Road". Something KEBA cannot miss out on! Visit us and learn all about our wall boxes that are MID-certified and compliant with the German calibration law, thus making it possible to charge and bill in public areas. In the outdoor driving course you can not only test your driving skills, but also our charging stations.
Read more