KEBA ranks among Europe's leading wallbox manufacturers
Over 250,000 wallboxes sold
With over 250,000 wallboxes sold, KEBA is establishing itself as one of the largest manufacturers of charging solutions for hybrid and electric vehicles. In its Energy Automation division, the Austrian automation expert KEBA AG specialises in charging stations for electric mobility and heating controls for heat pumps and biomass heating systems.
---
KEBA is not only an established player in the manufacture of innovative and sustainable charging solutions. The Linz-based company has been successfully operating in this sector for more than 10 years and has thus played a pioneering role in the field of charging infrastructure for hybrid and electric vehicles.
What is particularly remarkable about the company is its in-house electronics development and production. This vertical integration ensures the highest level of quality, maximum safety and reliability. With a clear focus on sustainability, the components for the charging stations are also sourced regionally as far as possible, which has a positive effect on CO2 emissions.
"With the manufacture of intelligent and sustainable charging solutions, KEBA is the Austrian expert in a thriving industry"
Christoph Knogler
CEO KEBA Energy Automation
Over 250,000 wallboxes - from Austria to the whole world
The number of charging stations manufactured to date is proof of just how well KEBA's electric mobility division has developed since then: At the beginning of 2021, the significant mark of 250,000 wallboxes was surpassed. This makes KEBA one of the leading wallbox manufacturers in Europe. The wall boxes are manufactured in Linz / Austria.
The demand for charging solutions manufactured in Linz is ever increasing, as more and more people are opting for an electric car. According to the ACEA report, for example, around 300% more hybrid or e-cars were registered in Europe in 2020 than in the previous year. This trend will continue in 2021. So the outlook is good for the Upper Austrian manufacturer of innovative and equally sustainable wallboxes.
About KEBA Electric Mobility
KEBA is one of the world's leading manufacturers of intelligent charging stations. The Austrian automation expert was founded in 1968 and entered the field of electric mobility 10 years ago, making it a wallbox pioneer. With the KeContact P30, electric cars can be charged safely and reliably. Thanks to a variety of interfaces, networking is also possible, making the wallbox a highly intelligent communication and control center. It can thus be easily integrated into smart homes and management systems and coupled with photovoltaic systems.
Press release
The KeContact P30 is available in different variants and can be used for charging all hybrid and electric cars.
Related articles
29.8.2019
Off to Italy: KEBA at the That's Mobility
Last year, "That's Mobility" was held for the first time in Milan, Italy. KEBA will attend this second edition of the trade fair, once more with its own booth, celebrating the tenth anniversary of the business division electromobility. This anniversary means 10 years of expertise in the field of smart charging solutions, where KEBA is among the top 3 manufacturers in the world with more than 150,000 wall boxes sold.
Read more
28.5.2020
"Urcharge" project examines crucial questions about the viability of e-mobility for everyday use
One of the largest and longest electric mobility field tests in Austrian history starts tomorrow. For the project "Urcharge" (Urban Charging) 51 households in a Linz residential complex will be exchanging their fuel car for an electric car including their own KEBA charging station, which is integrated into the Linz AG charging solution "WallBOX CitySolution". It will provide answers to fundamental questions about what infrastructure and charging behaviour is needed in order to make the day-to-day use of e-mobility a decisive environmental protection factor in urban areas, even for densely populated areas. The start of the project had been postponed due to Corona - now the project gets underway.
Read more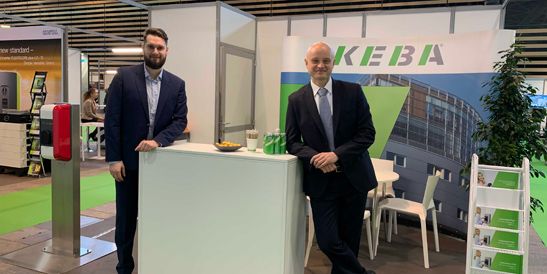 14.2.2019
KEBA at BePOSITIVE 2019
France calling ... again! This time our team is at BePOSITIVE - the national exhibition for the energy transition. And our wall box in the French national colors is on display again. Why not visit us until tomorrow, February 15th, at the KEBA stand 6.1P47?