February 11-13, 2020, Messe Essen (Germany)
This was E-world 2020: Our photo gallery
At the well-attended E-world energy & water 2020, Europe's leading trade fair for the energy sector, it was evident that the topic of electromobility is currently on the minds of almost all participants in the energy business. And why? Because shifting trends in mobility and the energy transition complement each other perfectly! In the future, electric vehicles will be an integral part of the energy sector. Intelligent, controllable wall boxes are required to create these grids. Visitors at our KEBA trade fair stand were able to see these boxes for themselves. You can take a look at our photo gallery here with our impressions from the trade fair.
---
Our exciting KEBA highlights from the trade fair
At the KEBA stand, interested visitors were able to talk to our wallbox experts about new developments in electromobility, find out about our new products, and experience the following highlights:
Highly intelligent wallboxes: much more than just charging
New: our KeContact P30 ME charging station in line with measurement and calibration regulations
Wallbox as a MID-certified meter
Europe-wide network of KEBA partners
We would like to thank all our visitors for their great interest and their positive reactions over all three days of the trade fair. We are already looking forward to meeting you again — at E-world energy & water 2021 at the very latest!
Related articles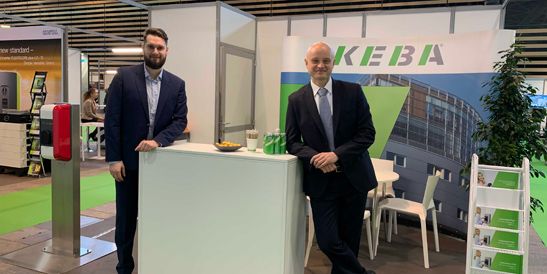 14.2.2019
KEBA at BePOSITIVE 2019
France calling ... again! This time our team is at BePOSITIVE - the national exhibition for the energy transition. And our wall box in the French national colors is on display again. Why not visit us until tomorrow, February 15th, at the KEBA stand 6.1P47?
8.5.2019
KEBA at EVS 32 in Lyon
We at KEBA are convinced that the future of electromobility lies in smart charging stations. Our wall boxes are capable of not only charging, but also controlling, communicating and networking. Experience this first hand at the leading trade fair for electromobility, EVS 32, in Lyon, France. Come visit us at Booth C13 on May 19-22.
Read more
5.10.2015
Charging with solar power in Sweden
Thanks to our sales partner Sundrive, customers of ICA Maxi supermarkets in Sweden can now charge their electric vehicles with solar power. A 12 kW photovoltaic tracker with four KEBA wallboxes is provided for the innovation solution.
Please select your preferred language
Your browser is out of date
Internet Explorer is no longer supported. Please switch to a current browser to use keba.com to its fullest extent.
KEBA - Automation by innovation.