Maintalhalle Mainaschaff (Germany), 5 April 2019
Start of the green season: Spring fair in Aschaffenburg
Spring signifies a new start every year and gives us a powerful energy boost. Use this to get off to a good start with electric mobility. Visit us at the spring fair in Aschaffenburg organized by the electrical wholesaler FEGA & Schmitt to talk to our KEBA experts about current market and product developments.
---
Almost everyone seems to be happy that spring has finally arrived. So is FEGA & Schmitt, one of the leading electrical wholesalers in Germany. Our partner invites you to the spring fair in Aschaffenburg where we will be putting our electric mobility solutions in the spotlight. And not only in the figurative sense - our KEBA stand is actually on the stage of the Maintalhalle.
Feel free to visit us for first-hand information on the latest topics such as conformity with calibration laws and MID certification. Come and experience the third generation of our wall box for yourself. It was tested only a few weeks ago by the ADAC (German Automobile Club) and given the test rating "very good" (grade 1.3). Incidentally, this year KEBA is already celebrating 10 years of electric mobility, which makes us one of the true pioneers and innovators in this field. Our team of experts looks forward to seeing you there.
When? 5 April 2019, from 12:00 to 6:00 pm
Where? On the stage of the Maintalhalle, Mainaschaff, Germany
Our electric mobility experts will be welcoming the green season at the spring fair in Aschaffenburg and look forward to seeing you there.
Related articles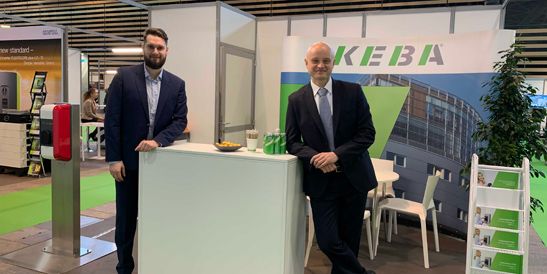 14.2.2019
KEBA at BePOSITIVE 2019
France calling ... again! This time our team is at BePOSITIVE - the national exhibition for the energy transition. And our wall box in the French national colors is on display again. Why not visit us until tomorrow, February 15th, at the KEBA stand 6.1P47?
20.5.2019
Live from EVS 32 in Lyon
Day 2 of the EVS 32 electromobility trade show... and our team is thrilled. The audience: top-class. The crowd at the KEBA stand: huge. The mood and response to our presentation: outstanding. But what exactly are the highlights to be discovered at our stand? Come visit us at Stand C13 to find out – until May 22.
KEBA at EVS 32
24.1.2017
Series production for a premium German car manufacturer
With the delivery approval and the start of series production of the new BMW i Wallbox manufactured by KEBA, cooperation between the Austrian automation specialist and the German premium car manufacturer is official.
Read more