Compatibility with the backend of be.ENERGISED
KEBA receives be.ENERGISED CERTIFIED AWARD
Just recently, KEBA was rewarded with the be.ENERGISED CERTIFIED AWARD from the leading provider of electromobility software. The award confirms the compatibility of the KEBA charging stations with the backend of be.ENERGISED.
---
be.ENERGISED has set itself the goal of promoting electromobility. A key to success is the networking of intelligent charging stations and their billing. As a provider of software solutions, the company, which was founded in 2013 in Radstadt near Salzburg, sets high quality standards - also for its hardware partners.
Award confirms the quality of KEBA's charging stations
The award with the be.ENERGISED CERTIFIED AWARD is thus also a confirmation of the quality and reliability of the KEBA charging station KeContact P30.
The certification was preceded by various integration tests, which confirmed the perfect interoperability between the charging stations of KEBA and be.ENERGISED.
High-quality solution for electromobility
As a be.ENERGISED certified charging station manufacturer, KEBA is part of a fast-growing open network with more than 7,500 networked charge points. Thanks to the cooperation, the two Austrian companies provide a high-quality solution for billing and networking charging stations in public and semi-public areas.
Matthias Moldaschl, CSO of has.to.be, handing over the be.ENERGISED CERTIFIED AWARD to Gerhard Wimmer (KEBA)
Related articles
11.5.2018
ÖkoFEN charges corporate fleet with KEBA charging stations
The pellet heating systems specialist ÖkoFEN, which is located in Niederkappel in the region of Mühlviertel in upper Austria, has counted on KEBA since 2013 when it comes to the controlling of their biomass boilers. Over the last few years, ÖkoFEN has developed into a supplier for comprehensive energy solutions and has now, for the most part, converted their vehicle fleet to electric cars. The vehicle fleet is of course charged with KEBA's charging station. (Picture reference: ÖkoFEN)
Read more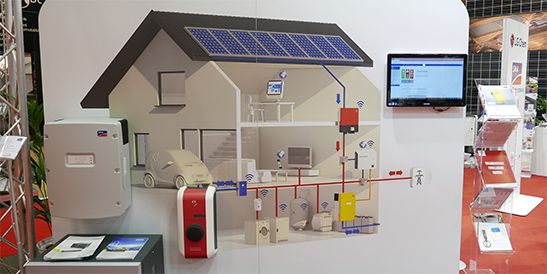 4.3.2019
That was the Energiesparmesse 2019
The Austrian Energy Saving Fair is the annual event highlight on the topic of "the perfect and smart home". This year the electric mobility expert and market leader KEBA was once again well represented with numerous wall boxes, an expert lecture and participation in a panel discussion on the ORF stage.
Read more
17.9.2019
That was the IAA 2019: Our photo gallery
The IAA 2019 was dedicated to solutions for tomorrow's mobility and in particular to the topic of electro mobility. KEBA presented its charging solutions for an electric and emission-free future. Visitors could experience the intelligent wall boxes – of which more than 150,000 have already been sold worldwide – first hand and exchange ideas with our electro mobility experts. We would like to express our sincere thanks for the enormous interest and the positive response! Here you can view the photo gallery with all of our trade fair impressions!
To the photo gallery