Specialist for pellet heating systems
ÖkoFEN charges corporate fleet with KEBA charging stations
The pellet heating systems specialist ÖkoFEN, which is located in Niederkappel in the region of Mühlviertel in upper Austria, has counted on KEBA since 2013 when it comes to the controlling of their biomass boilers. Over the last few years, ÖkoFEN has developed into a supplier for comprehensive energy solutions and has now, for the most part, converted their vehicle fleet to electric cars. The vehicle fleet is of course charged with KEBA's charging station. (Picture reference: ÖkoFEN)
---
Clean cars need clean electricity
A one of a kind project, the ÖkoFEN Clean Mobility Program, obviously has sustainable power supply in mind in addition to the electric cars. Stefan Ortner, Managing Director of ÖkoFEN, explains: "At the locations in Niederkappel and Lembach, the existing pellet heating systems will be expanded to include photovoltaic systems and battery storage. In this way, the company cars will be charged primarily with solar power from the PV system. If the sun isn't shining, the pellet boilers act as a back-up to supply power to the power charging station. This way, the power supply to the e-vehicles runs sustainably and on self-produced electricity."
Reliable charging infrastructure for the corporate fleet
The first electric car was already added to the corporate fleet eight years ago. Since technology has vastly improved over the last few years, ÖkoFEN now largely relies on electromobility, currently resulting in 85 percent of the company vehicles being electric. The expansion of the charging infrastructure at the company's location was a logical consequence in this case – a total of 26 KeContact P30 electricity charging stations charge the new ÖkoFEN fleet safely and reliably.
"We consciously trust in reliable Upper Austrian technology. KEBA is one of the leading providers of charging stations," says Ortner regarding the cooperation between ÖkoFEN and KEBA.
Dieter Zechleitner (Sales Director for heating control systems) and Gerhard Wimmer (Sales Director for e-mobility in Austria) from KEBA are also impressed: "We are glad that the collaboration between ÖkoFEN and KEBA has not only continued in the heating control systems, but also in electromobility, and that, with ÖkoFEN, we number among the pioneers in the field of renewable energy for our customers."
Download Press Release
Related articles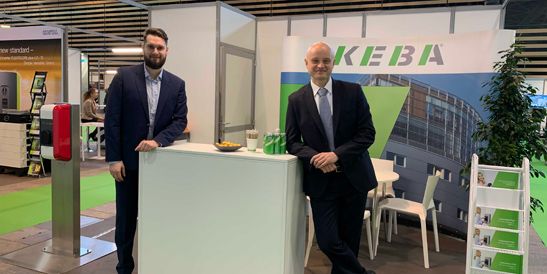 14.2.2019
KEBA at BePOSITIVE 2019
France calling ... again! This time our team is at BePOSITIVE - the national exhibition for the energy transition. And our wall box in the French national colors is on display again. Why not visit us until tomorrow, February 15th, at the KEBA stand 6.1P47?
20.3.2019
Electric mobility premiere at the eltefa 2019
For the first time ever, the eltefa 2019 will be hosting a special exhibit "The E-Road". Something KEBA cannot miss out on! Visit us and learn all about our wall boxes that are MID-certified and compliant with the German calibration law, thus making it possible to charge and bill in public areas. In the outdoor driving course you can not only test your driving skills, but also our charging stations.
Read more
29.12.2021
E-Mobility Glossary
From the outside, a conventional combustion engine differs only marginally from its electric relative - internally, however, it differs a great deal. A different engine brings with it many new terms that require explanation. From 'A' as in 'AC' to 'F' as in 'FI circuit breaker' and many other terms, we have listed the most important technical vocabulary that an e-car driver should know.
Read more