Wall boxes in the ADAC and the ÖAMTC test
KEBA charging station receives test rating "very good" (mark: 1.3)
10.12.2018
News, Technical, Private, Business
Only recently, both the German ADAC and the Austrian ÖAMTC tested twelve charging stations for electric cars: half of the wallboxes put through their paces were not recommended. The KEBA KeContact P30 charging station received an overall rating of 1.3 (judgement: very good) and is therefore recommended without restriction by the two mobility clubs!
---
KEBA was the test winner for wall boxes up to 4.6 kW. The ADAC particularly emphasized the simple operation and reliability as well as the integrated DC fault current detection, which makes an expensive FI type B superfluous.
Gerhard Wimmer, Sales Electric Mobility at KEBA, on the test results: "We are extremely pleased with this positive test result from the ADAC and ÖAMTC, which confirms our many years of work, experience and know-how in this field. The result shows that our Wallbox KeContact P30 is a reliable system component for the intuitive, simple charging of electric vehicles".
ADAC seal of approval for KEBA's KeContact P30
ÖAMTC seal of approval for KEBA's KeContact P30
Related articles
22.3.2019
Trade Fair "ZANDER TRIFFT..." in the VELTINS Arena
In a location where normally top-class football teams or legendary music bands inspire thousands of people, the Zander Group invites you to a trade fair event of a special kind. KEBA will be presenting new products from the world of electric mobility from 22 to 23 March in one of the world's largest football stadiums - the VELTINS Arena in Gelsenkirchen.
Read more
28.5.2020
"Urcharge" project examines crucial questions about the viability of e-mobility for everyday use
One of the largest and longest electric mobility field tests in Austrian history starts tomorrow. For the project "Urcharge" (Urban Charging) 51 households in a Linz residential complex will be exchanging their fuel car for an electric car including their own KEBA charging station, which is integrated into the Linz AG charging solution "WallBOX CitySolution". It will provide answers to fundamental questions about what infrastructure and charging behaviour is needed in order to make the day-to-day use of e-mobility a decisive environmental protection factor in urban areas, even for densely populated areas. The start of the project had been postponed due to Corona - now the project gets underway.
Read more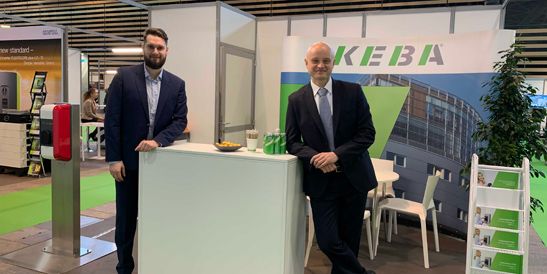 14.2.2019
KEBA at BePOSITIVE 2019
France calling ... again! This time our team is at BePOSITIVE - the national exhibition for the energy transition. And our wall box in the French national colors is on display again. Why not visit us until tomorrow, February 15th, at the KEBA stand 6.1P47?